It is without question that tea's best friend, lover and soulmate is shortbread.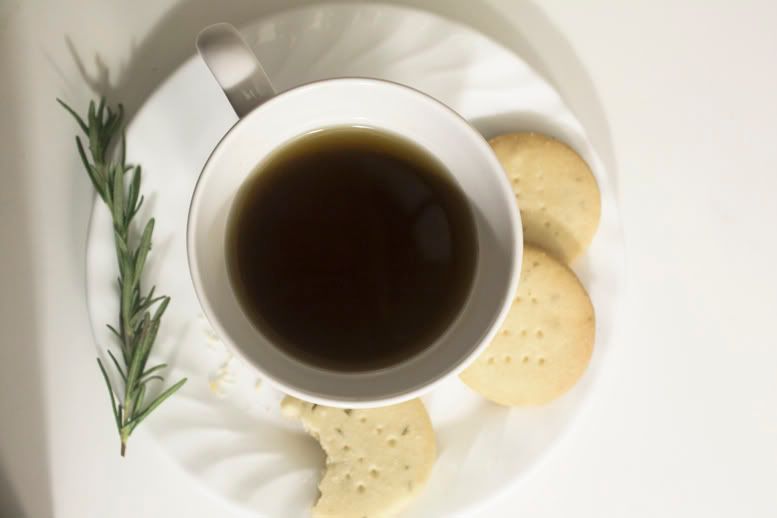 At first glance, it may seem bizarre. Rosemary, honey and sea salt? Oh, but doubt me not! It is ethereal; each little nibble crumbling and melting in your mouth, leaving you with a curious and intriguing aftertaste. Fresh rosemary brings such fragrance to this buttery shortbread, and the sea salt sprinkled before baking elevates this beautifully. You know how there are certain things in life that fill you with plump satisfaction, yet, even after, you find yourself yearning for just a little bit more? This is
exactly
that.
I discovered three things after starting the recipe:-
a) I don't own any cookie cutters. None, zilch, zero.
b) My neighbourhood grocery store,
Potash Brothers
, does not have cookie cutters in stock until the holiday season.
c) Champagne flute glasses make marvelous cookie cutters if you're in a bit of a rut, as I was.
Mmm, and need I remind you that it is perfect for the coming tea season? For me, it was partnered with a slightly oversteeped cup of chai, no sugar. Delectable. Look at how darling these are, little butter-white circles playfully speckled with fresh rosemary!
Recipe: from
Epicurious
. I found it easier to chill the dough for a few minutes before rolling it out and putting my champagne flutes to work. Also, I highly recommend a light dusting of coarse sea salt just before you pop it in the oven.